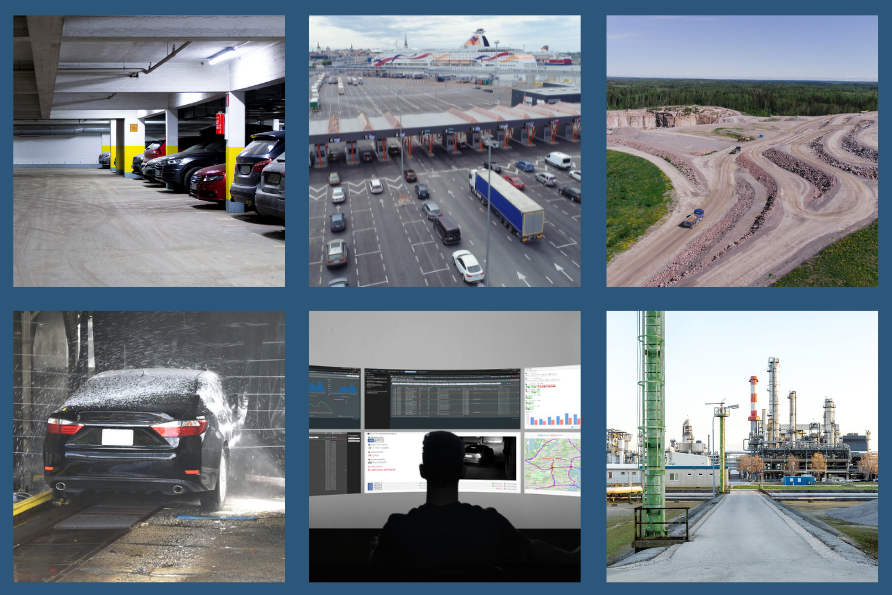 The industry-specific WYS Platforms have been designed with the practices and processes of each industry in mind. The Platform is used to bring automation, digitalisation, and self-service to performance, which make it possible to significantly increase the efficiency of the operations and processes in each industry. A real-time and automatic situation awareness produced by the Platform provides accurate information for a quick decision making, and a user has access to the information with a browser, tablet and a mobile. An automatic and real-time BI Reporting makes it easy to share information both automatically and manually with different recipient groups.
The new industry-specific WYS Platforms are
Smart Parking
Smart Port
Smart Circular Economy
Smart Car Wash
Smart Security and Automation
Smart Industry Vehicle Access
In the various industries specific devices and systems are used for the operations, such as car wash machines, measuring systems, and vehicle weigh bridges and load scales for weighing. The multi-brand environment of the Platforms enables the use of both the existing device base and the new systems as data sources.
Two-way connections make it possible to control and manage other devices and systems. For example, on outdoor and indoor information monitors, it is possible on a need basis to display automatically and in real time messages related to each event, either the same message or different messages on each monitor.
Using the industry-specific Platforms with Dashboard interfaces is easy. Real-time data is presented in the preferred format as visual graphs and lists. It is possible for the user to have multiple Dashboards as needed.
WYS Platform's BI Reporting is as easy as using the Platform itself. Users have a possibility to create the reports they want and / or use the generated reports within their access rights.
Each industry-specific WYS Platform scales limitlessly. Data is automatically and in real time collected from the connected devices and systems located in one or more locations. Versatile user management makes it easy to also manage the large number of user rights.
More information about the industry-specific WYS Platforms is available on our website.
If you want to know more about how the WYS Platform would make your company's operations more efficient, please contact us.