Location
Online webinar, at 10.00 EET / at 09.00 CET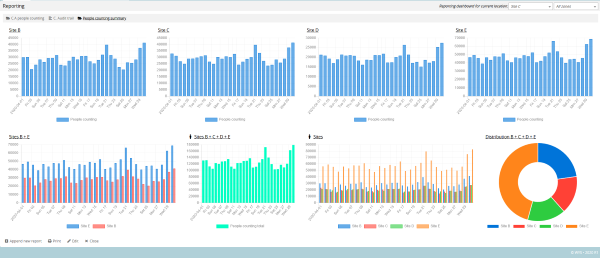 Hikvision people counting cameras and WYS Platform provides you a modern solution to, for example, follow Covid-19 restrictions in your premises. You will be able to ensure both the compliance with restrictions and smooth coming and going – automatically.
WYS Platform can process data from several Hikvision cameras at doors, in premises, rooms, spaces and in different locations at the same time. All available data can be freely combined into aggregate data to the Dashboard views and reports. You can utilize data like
• People flow in numbers (at one door, several doors, all doors)
• Number of people in a premise / premises (one space can be inside another space)
• People density.
If you have monitors in the front of the premises, any information and operation procedure messages can be sent to the monitors automatically. One monitor can show information from several premises. Also alarms, events, and guideline messages can be sent automatically to personnel, management and guards' mobiles – you can choose freely the routing rules. You can use WYS Platform anywhere with any device at any time.
Hikvision and WYS's webinar is on June 2, 2020, starting at 9.00 Swedish time and at 10.00 Finnish time.
Agenda
09.00 – 09.30    WYS platform presentation and a live demo
09.30 – 10.00    Hikvision people flow and density solution introduction
10.00 – 10.15    Session for questions
The webinar language is English.
Warmly welcome to our Webinar to learn more!
If you are not able to attend the live webinar, we will send the link to the recording to everyone registered.
You can register to the live event in the Hikvision event page here.
* When your registration is approved, you'll receive an email with a link to ZOOM.